Shinrin-yoku | Forest Bathing
What is Shinrin-Yoku, aka Forest Bathing?
Simply put Shinrin-Yoku, or Forest Bathing, involves immersing yourself in the atmosphere of the forest or woodland whilst engaging each of your senses in a mindful capacity to benefit your wellbeing.
The core principle of Shinrin-Yoku or Forest Bathing is that you are present and in the moment and not distracted by technology, conversations or everyday stresses of daily life.
More than simply a walk in the woods, the practice of Shinrin-Yoku adopts principles of mindfulness and entails slowing down and applying  an acute focus on what's around us through a series of sensory invitations. 
Shinrin-Yoku techniques can be learnt and applied by yourself.
However a qualified Forest Bathing or Shinrin -Yoku Practitioner will take time to explain the scientific research and health benefits and guide you through a series of gentle mindful invitations which focus on each of your senses, as you remain present and connect with nature, without thinking about time or direction.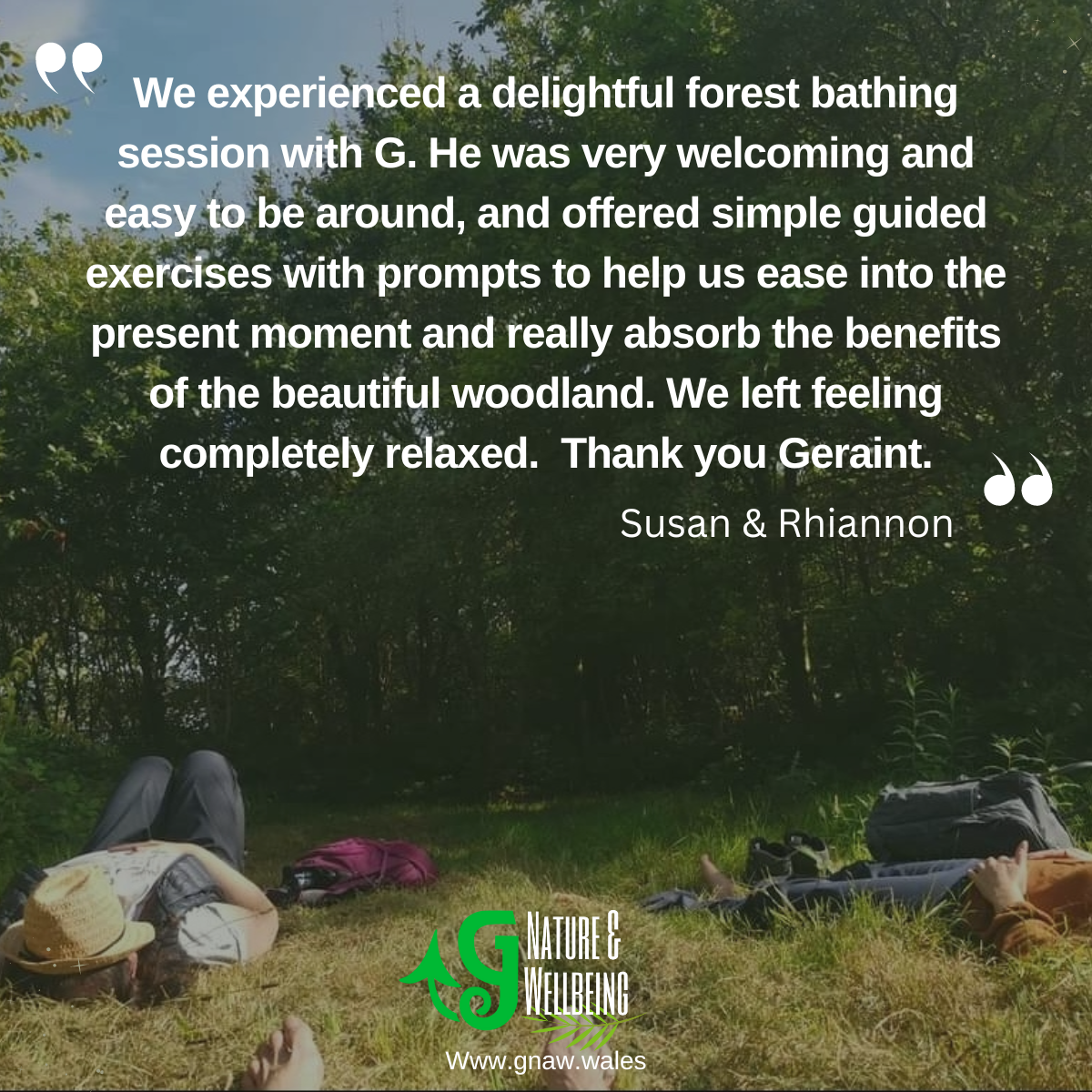 Where did Shinrin-Yoku originate?
Shinrin-Yoku, directly translated to Forest Bathing,  started in Japan in the 1980s due to spike in mental health issues coinciding with a mass migration of people into the cities from rural areas, driven by the mass technological boom of the 80s. 
The Forestry and Fisheries commission, funded by the Government, invited people to spend time in the forests and over time mobile labs measured key health markers as people spent time at various forest stations engaging their senses in nature.  
The results saw a positive impact to both physiological and psychological wellbeing. This influenced a global body of evidence that is present today.
What's involved in our Shinrin-YoKu Class?
Following a welcome and introduction to Shinrin-Yoku, touching on the origin and scientific health benefits, you'll set off on a contemplative amble through the forest or woodland. 
From time to time you'll stop and receive various mindfulness invitations from the guide which are designed to help you to connect with nature, tuning in with each of your senses, seeing, hearing and feeling the natural environment with an acute and childlike curiosity. 
Some of these invitations involve sitting, standing, lying or walking. They are mostly done solo, though some can be done in pairs. 
How you approach each invitation is entirely your own your choice , with no pressure or expectations.
A Shinrin-Yoku session may last for around 2-3 hours,  covering little ground at a slow and considered pace, stopping in different sections of the woodland or forest. 
   

What to bring?
Sturdy footwear as terrain underfoot can vary as we explore the forest

Long trousers to avoid nettle stings or scratchy branches

Something to sit and or lie on may help you relax into the invitations and prevent a soggy bum

Water and snacks

Be prepared for the weather, sunscreen / waterproofs

Curiosity and open mindset
research based
Health Impact of Shinrin-yoku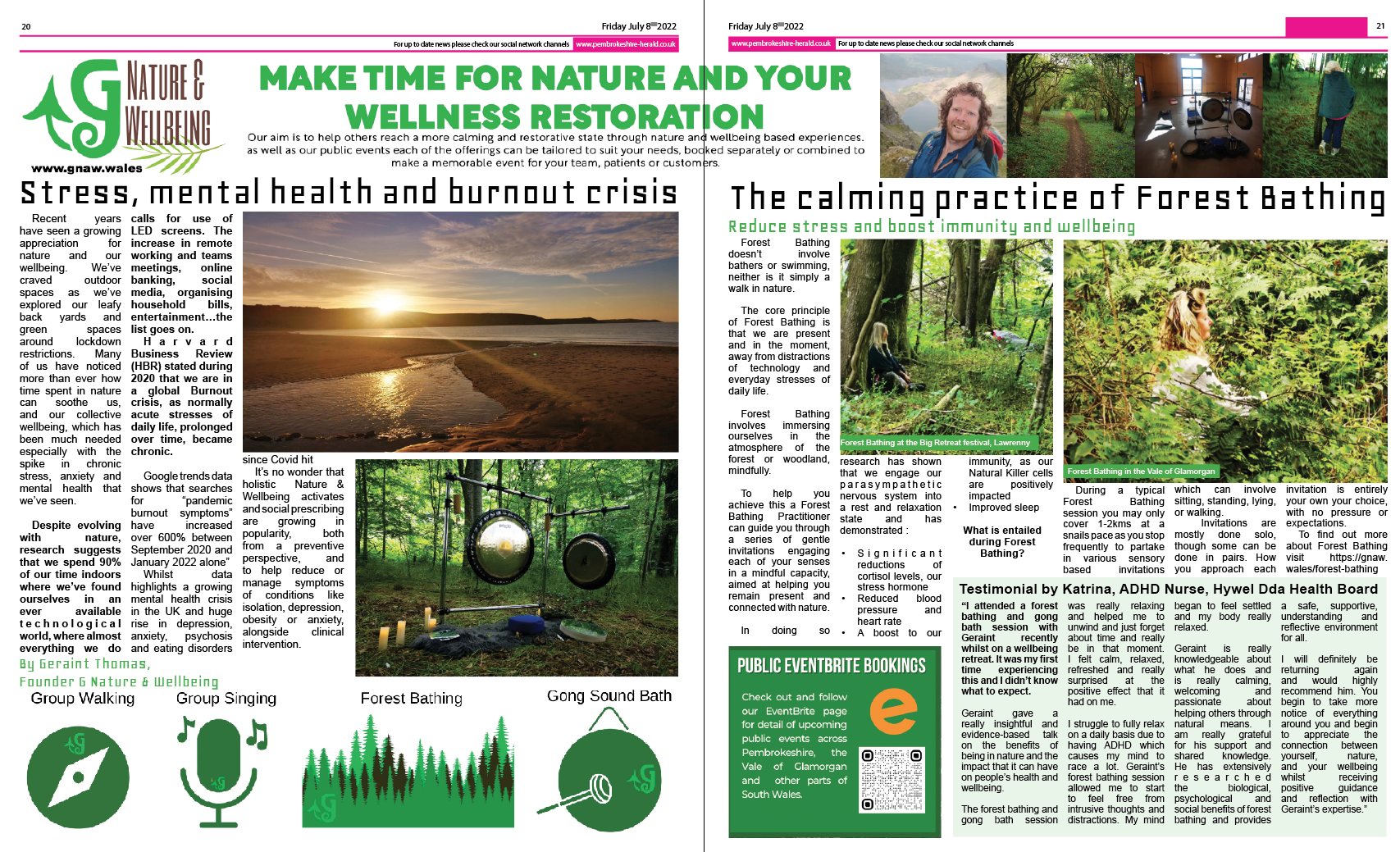 Testimonial
Katrina, ADHD Nurse, HDHB
"I attended a forest bathing and gong bath session with Geraint recently whilst on a wellbeing retreat. It was my first time experiencing this and I didn't know what to expect.
Geraint gave a really insightful and evidence-based talk on the benefits of being in nature and the impact that it can have on people's health and wellbeing.
The forest bathing and gong bath session was really relaxing and helped me to unwind and just forget about time and really be in that moment. I felt calm, relaxed, refreshed and really surprised at the positive effect that it had on me.
I struggle to fully relax on a daily basis due to having ADHD which causes my mind to race a lot. Geraint's forest bathing session allowed me to start to feel free from intrusive thoughts and distractions. My mind began to feel settled and my body really relaxed.
Geraint is really knowledgeable about what he does and is really calming, welcoming and passionate about helping others through natural means. I am really grateful for his support and shared knowledge. He has extensively researched the biological, psychological and social benefits of forest bathing and provides a safe, supportive, understanding and reflective environment for all.
I will definitely be returning again and would highly recommend him. You begin to take more notice of everything around you and begin to appreciate the connection between yourself, nature, and your wellbeing whilst receiving positive guidance and reflection with Geraint's expertise."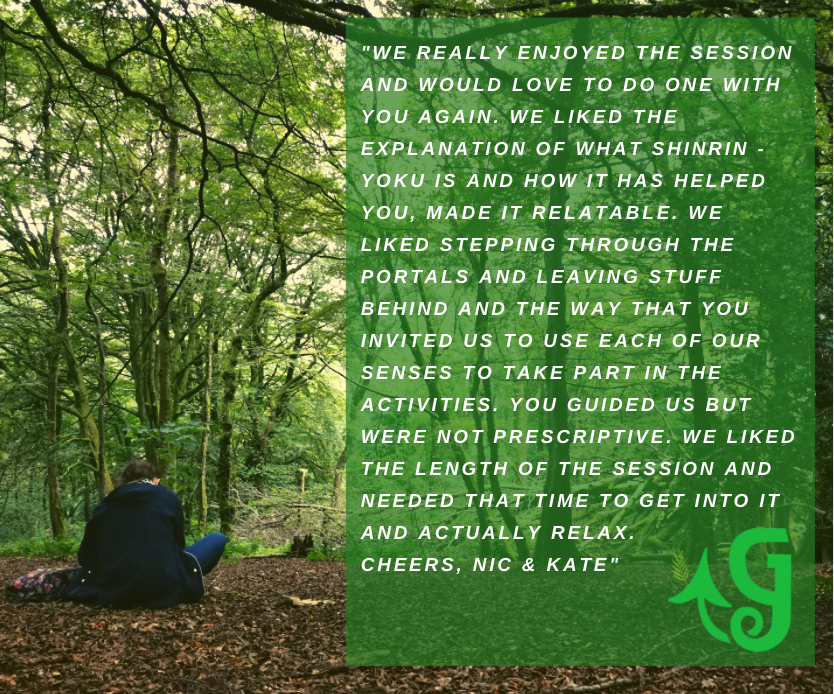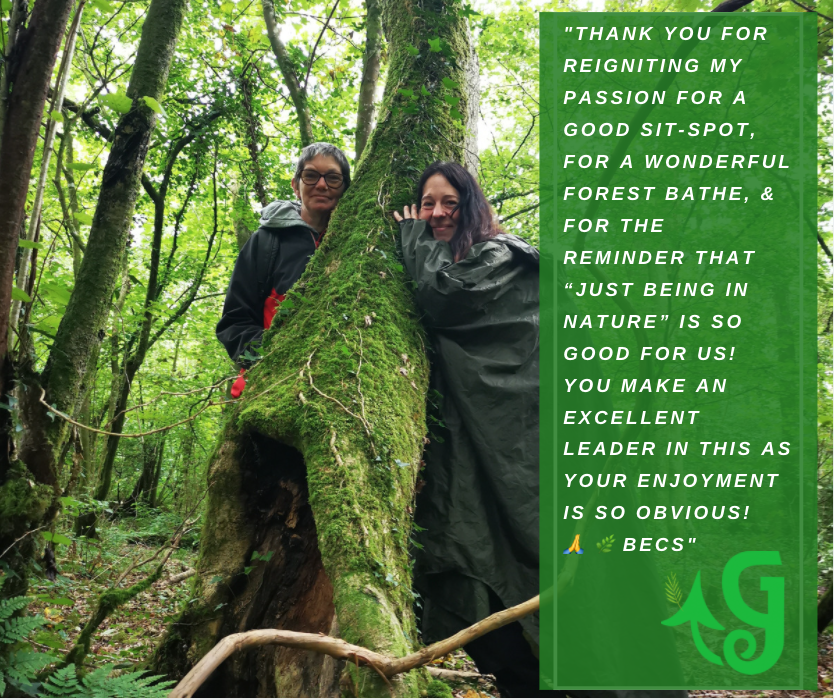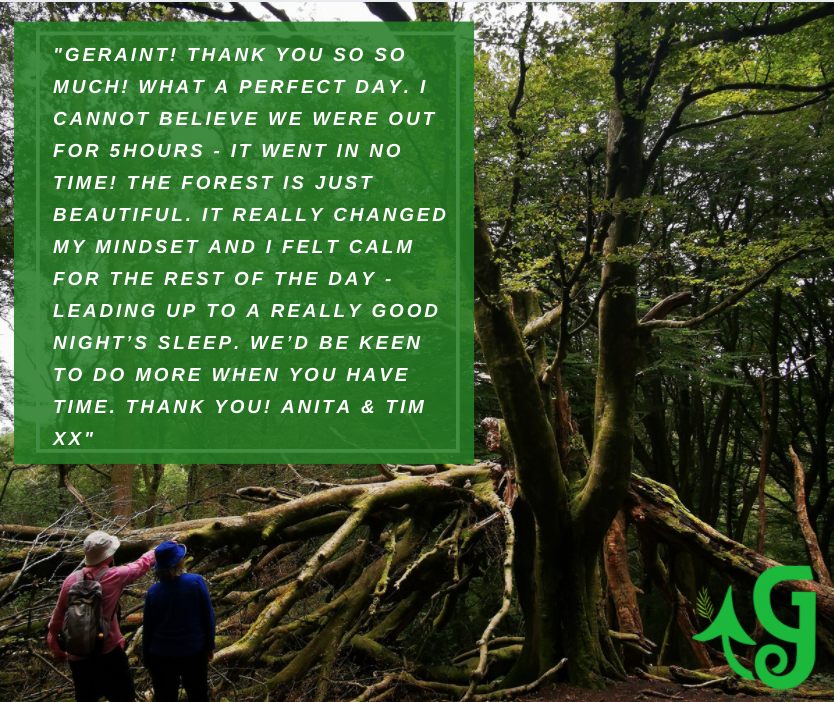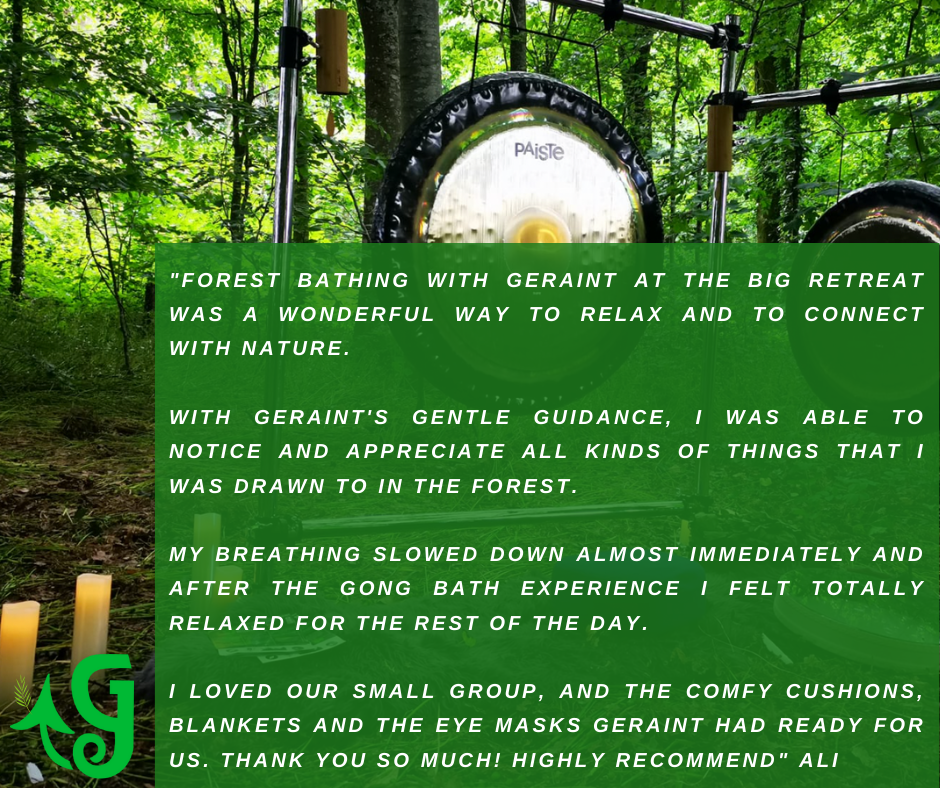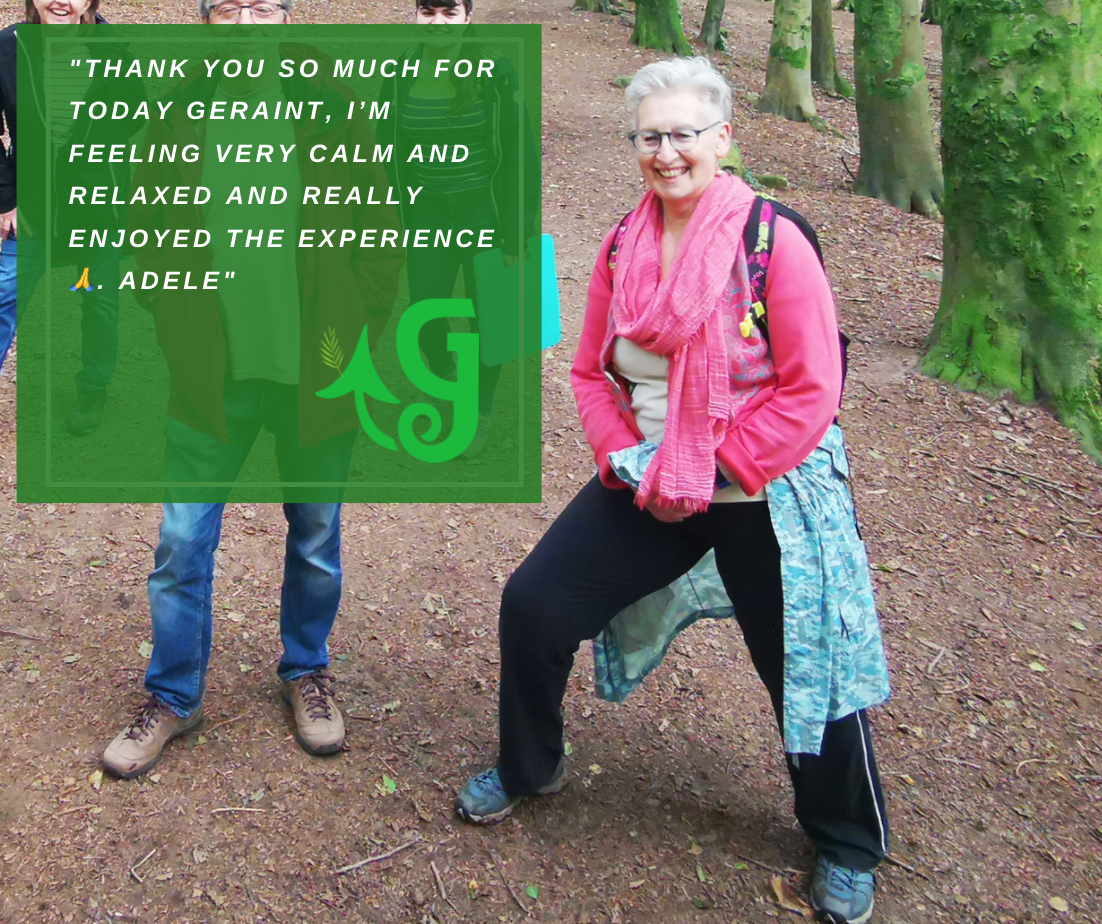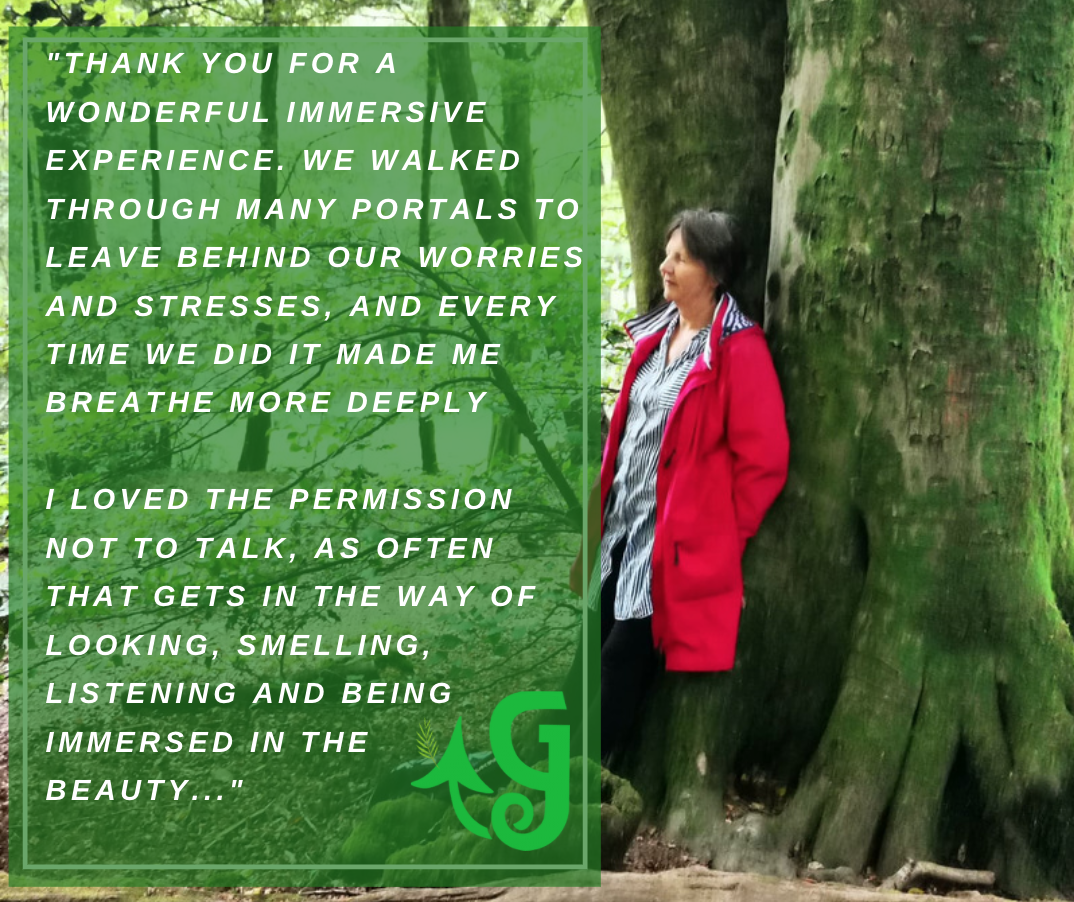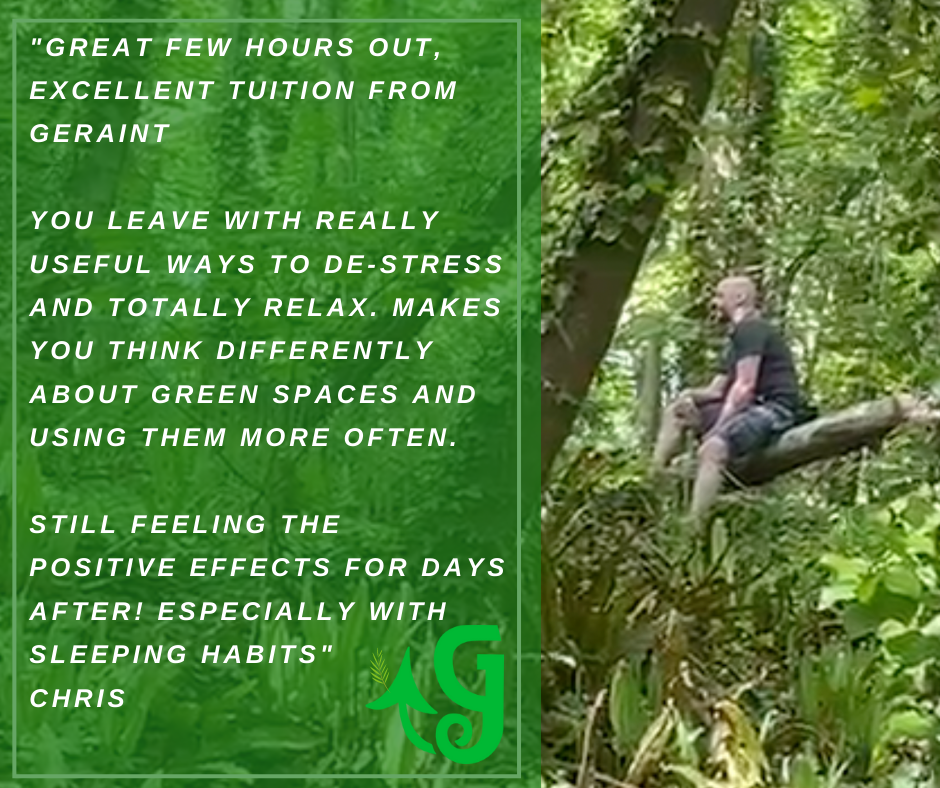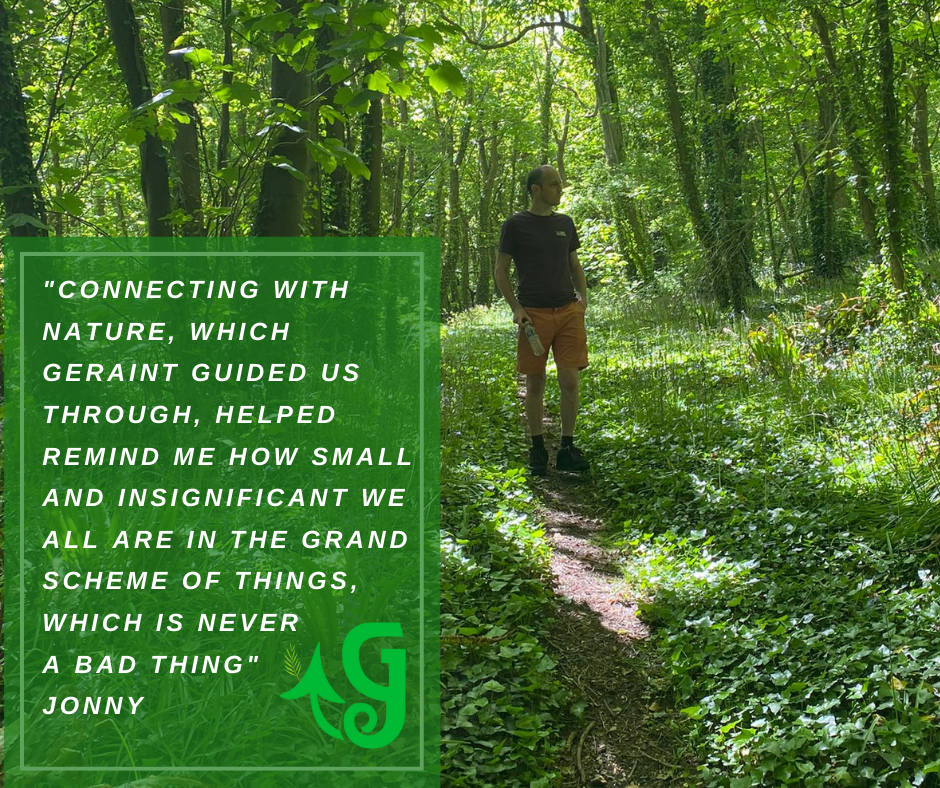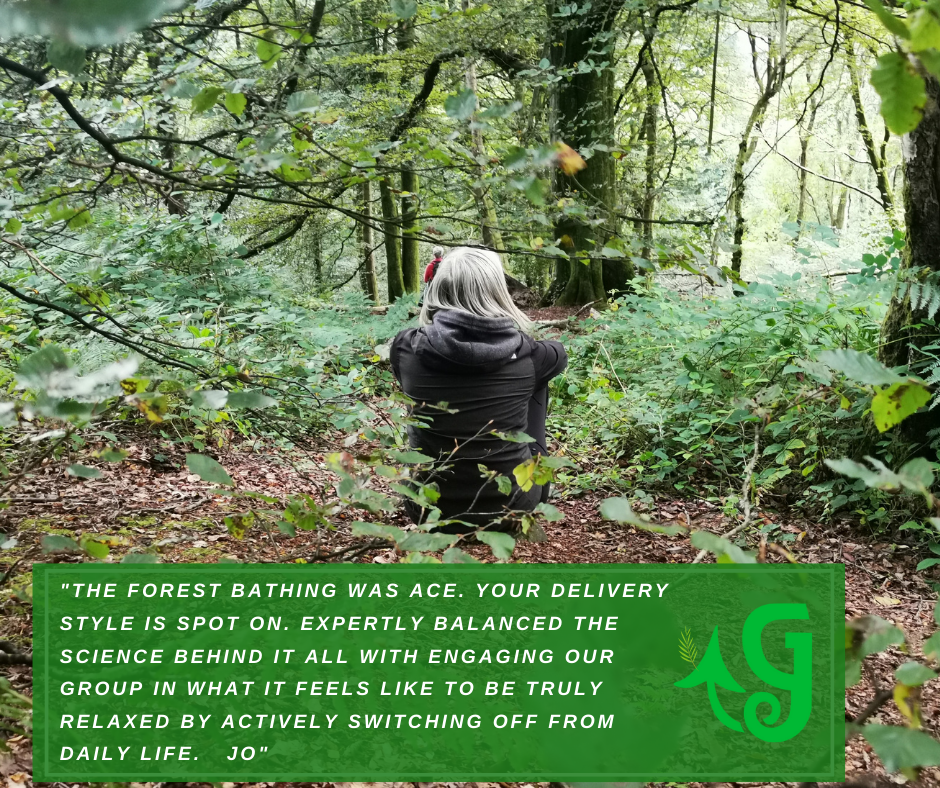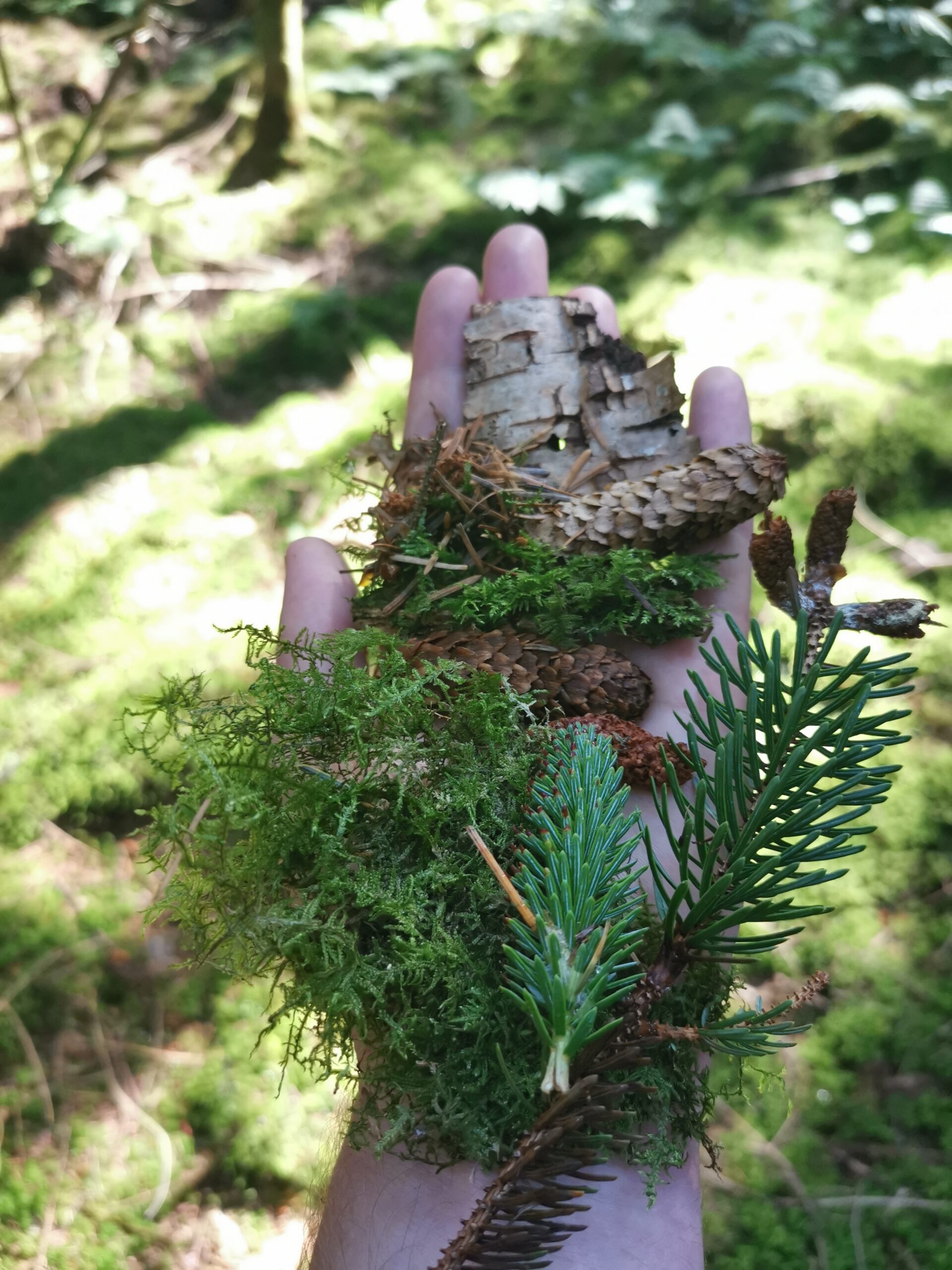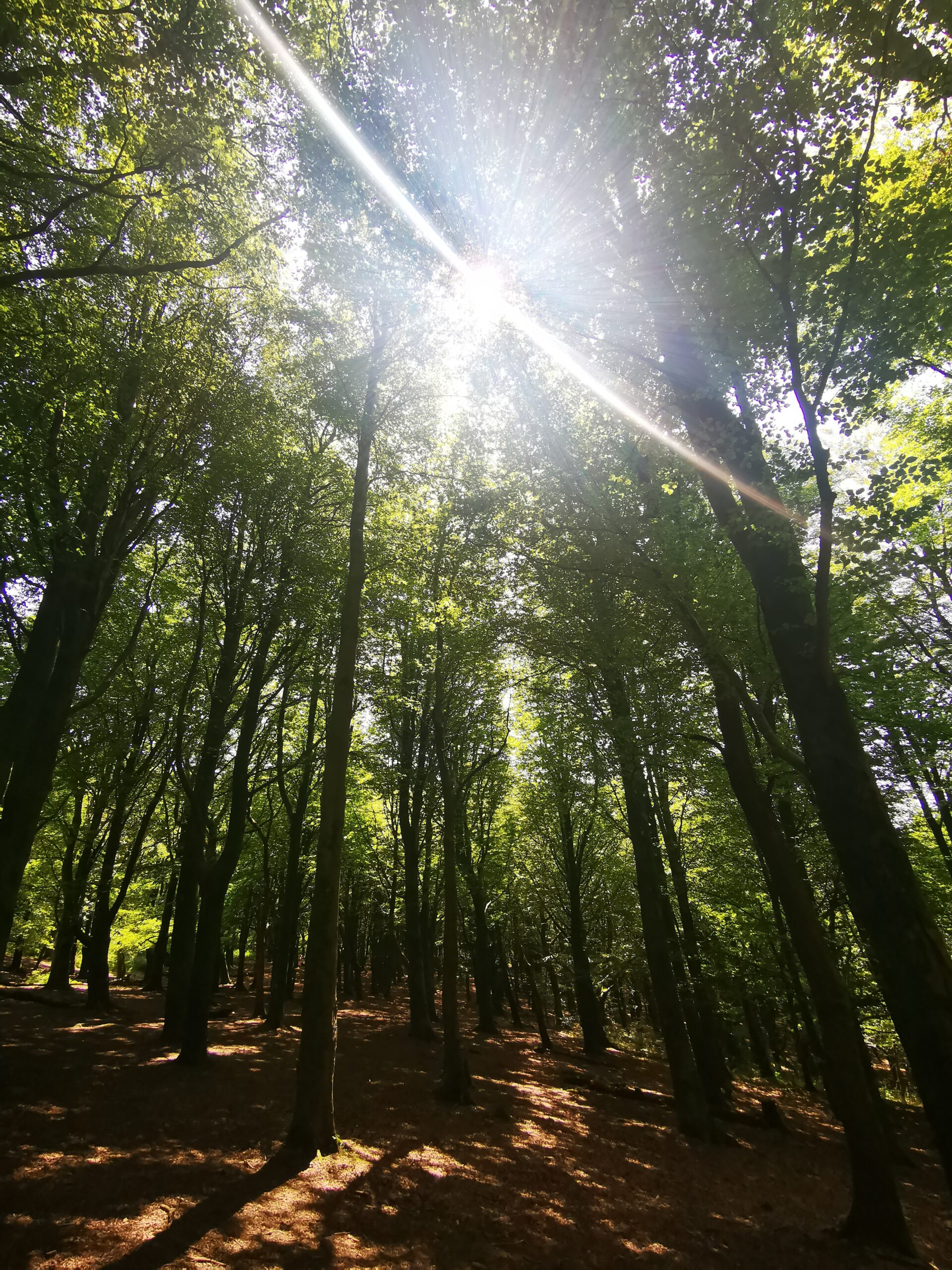 Reduced Heart rate & Blood Pressure
rebalance mood altering brain chemicals
Public Event Booking Pages on Eventbrite
Why not combine wellness experiences into a full day or multi day retreat?