G Nature & Wellbeing Credit Pass
and Vouchers
G Nature & Wellbeing Gift Voucher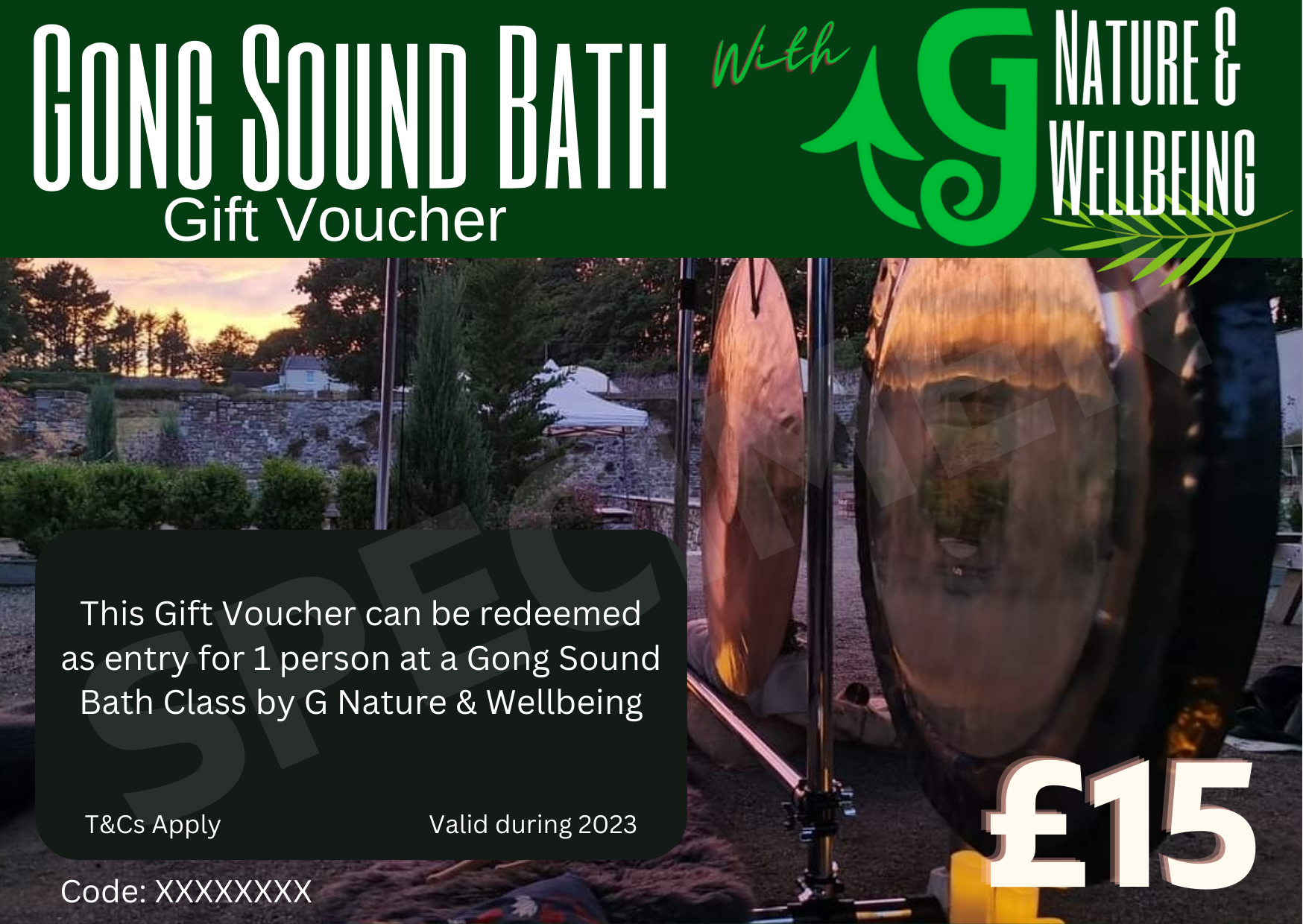 GNAW GIFT VOUCHERS
These vouchers can be redeemed to secure a spot at one of our Gong Sound Baths through our Eventbrite booking page, simply select the event and date you wish to attend, and select promo code at checkout to enter the voucher code. There are no additional booking fees with the vouchers.
To purchase Gift Vouchers please contact us at info@gnaw.wales
For live event listings and more detail of each event visit our Eventbrite Booking Page
For more information about our Gong Sound Bath on this website
Scroll down to see dates and venues booked so far during 2023
G Nature & Wellbeing Credit Pass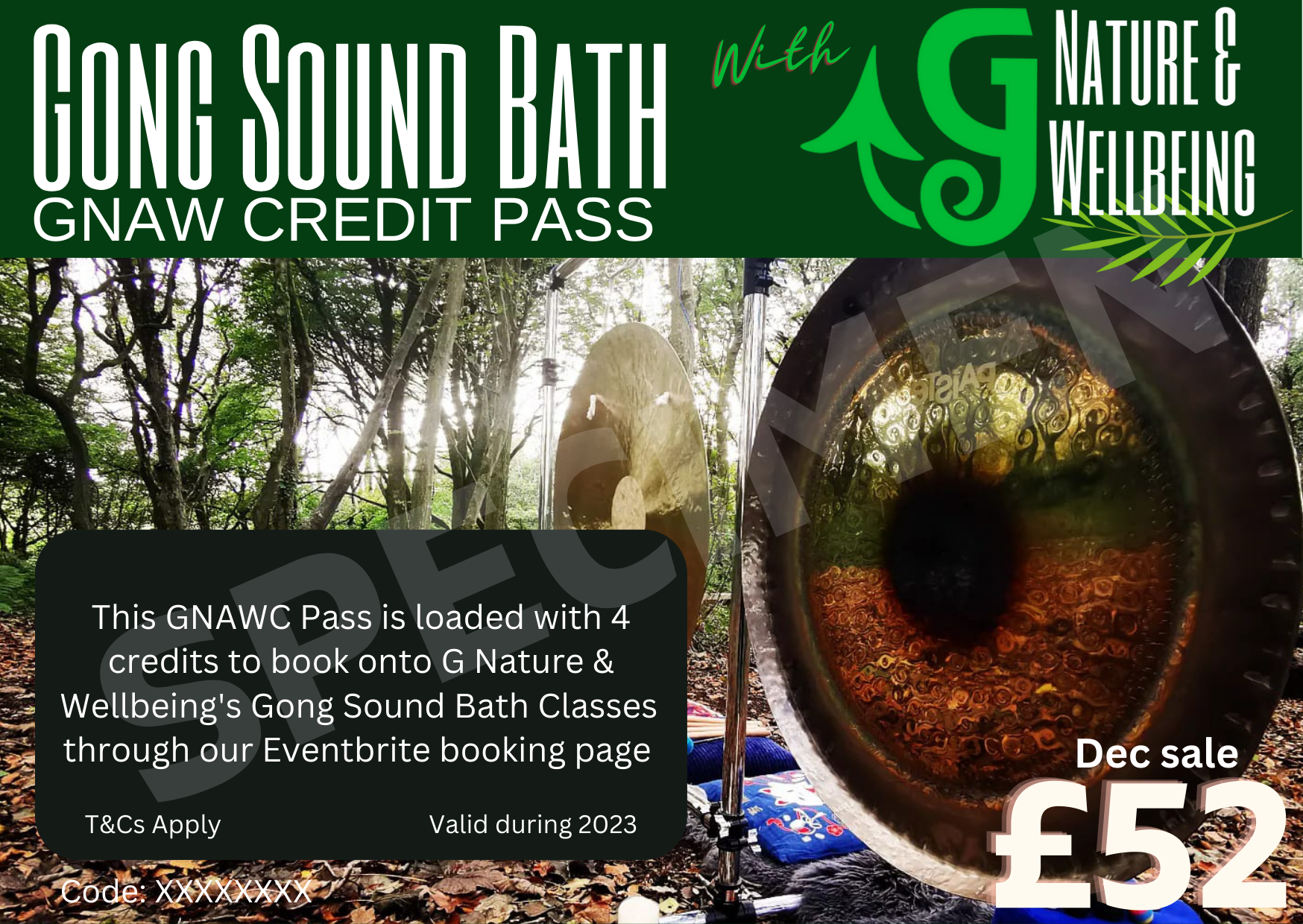 GNAW CREDIT PASS
It's great see regular faces at our classes seeking a the sense of calm that can come  with our sound journeys.
To recognise and reward our regular customers and aid consistency we're introducing GNAW Credit Passes for 2023.
These are discounted loyalty vouchers which are pre loaded with 4 credits that can be used to secure your place at our events through our Eventbrite booking page, whilst also bypassing the booking fees.
GNAW CREDIT PASS COST VS STANDARD TICKET PRICES?
Standard ticket prices can vary, depending on the venue/event. However for illustration purposes, a £15.50 ticket with booking fee added can cost £17.30.
During December a GNAW Credit Pass, pre loaded with 4 credits, can be secured for £52 direct from G
Averaging £13 per session, saving £4.30 or 25% off a standard total booking cost
Like a buy 3 get 1 free if you like.
Enquire at info@gnaw.wales
Al Fresco sessions 🌱🌿🌳🦜
There's something really special about hosting Gong Sound Baths in nature, which is also great for our health and wellbeing.
As such our mission is to host as many of the sessions as we can al fresco, amongst trees, breeze and birds. It really does add to the sensory experience.
All of the partner locations have been carefully selected for their privacy, peace and tranquility. It's important to us that attendees get to feel safe and undisturbed as they close their eyes and journey with the Gong sounds and frequencies, with little risk of passing public, dogs or traffic.
Please see our Gong Sound Bath page on this website for more information about our sessions.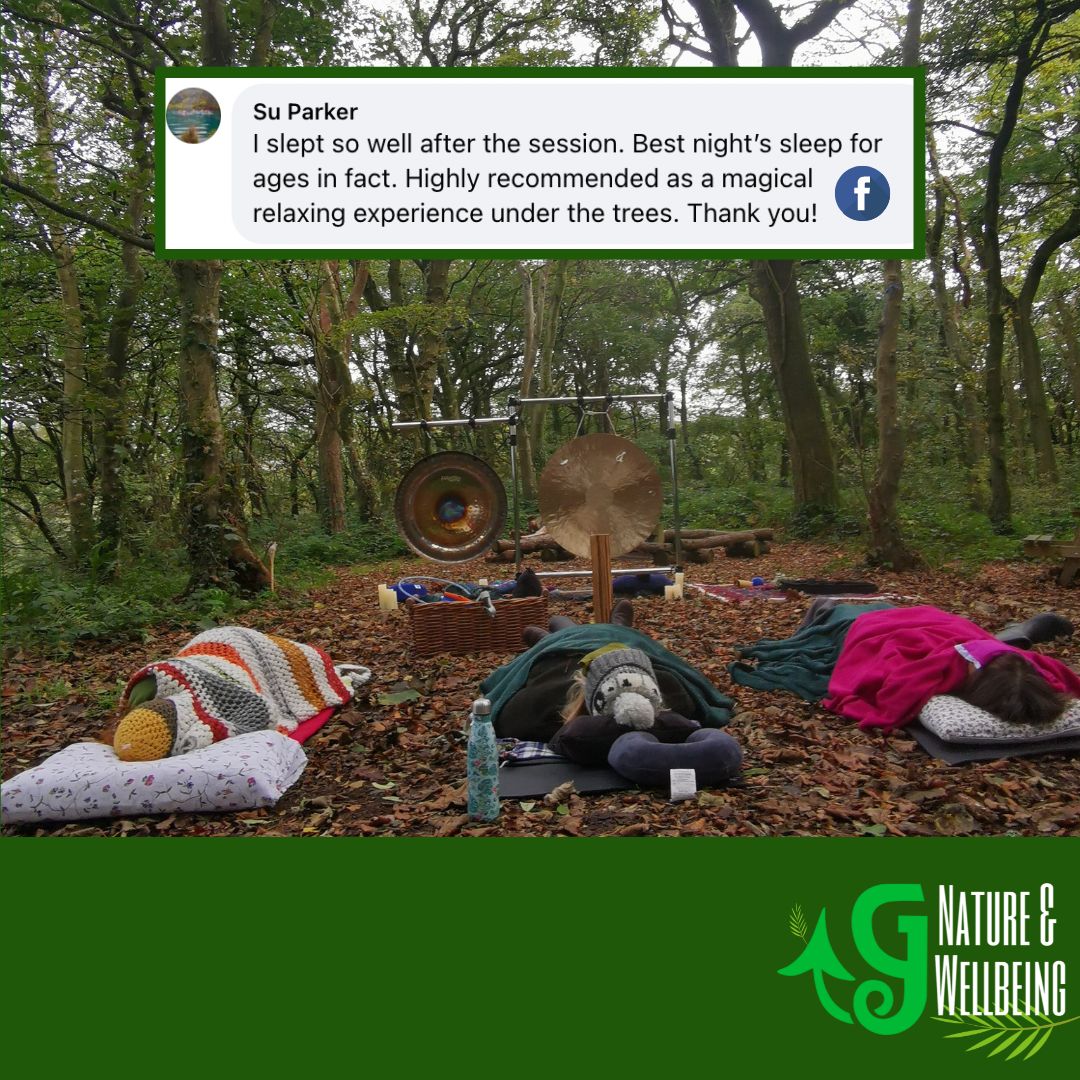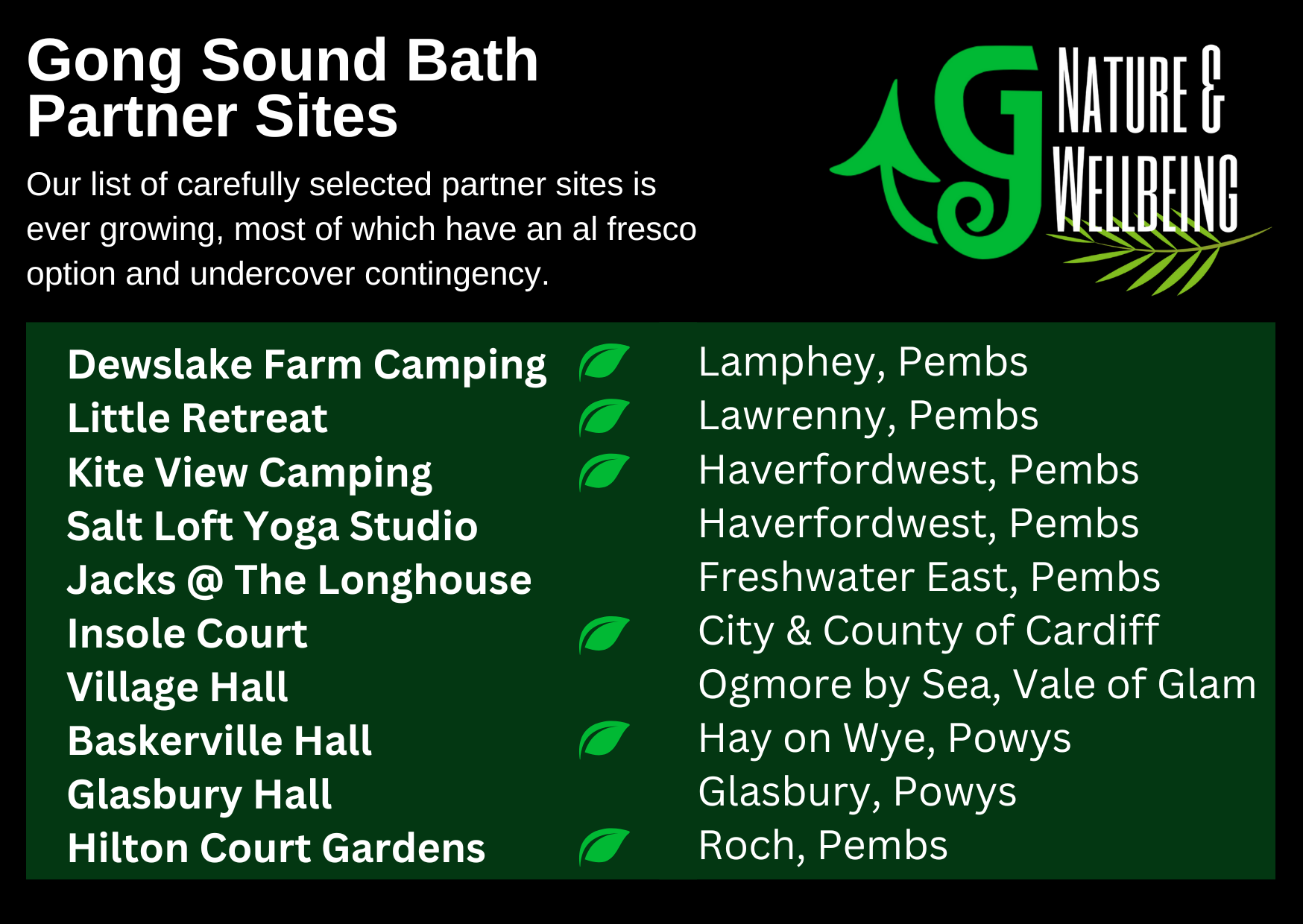 Dates for 2023
We have agreed a number of regular dates for our Gong Sound Bath classes with our partner sites across Pembs and South Wales between May and October 2023.   These are listed here.
There will be more sessions added as dates are agreed with new and existing partner sites, or as new opportunities arise.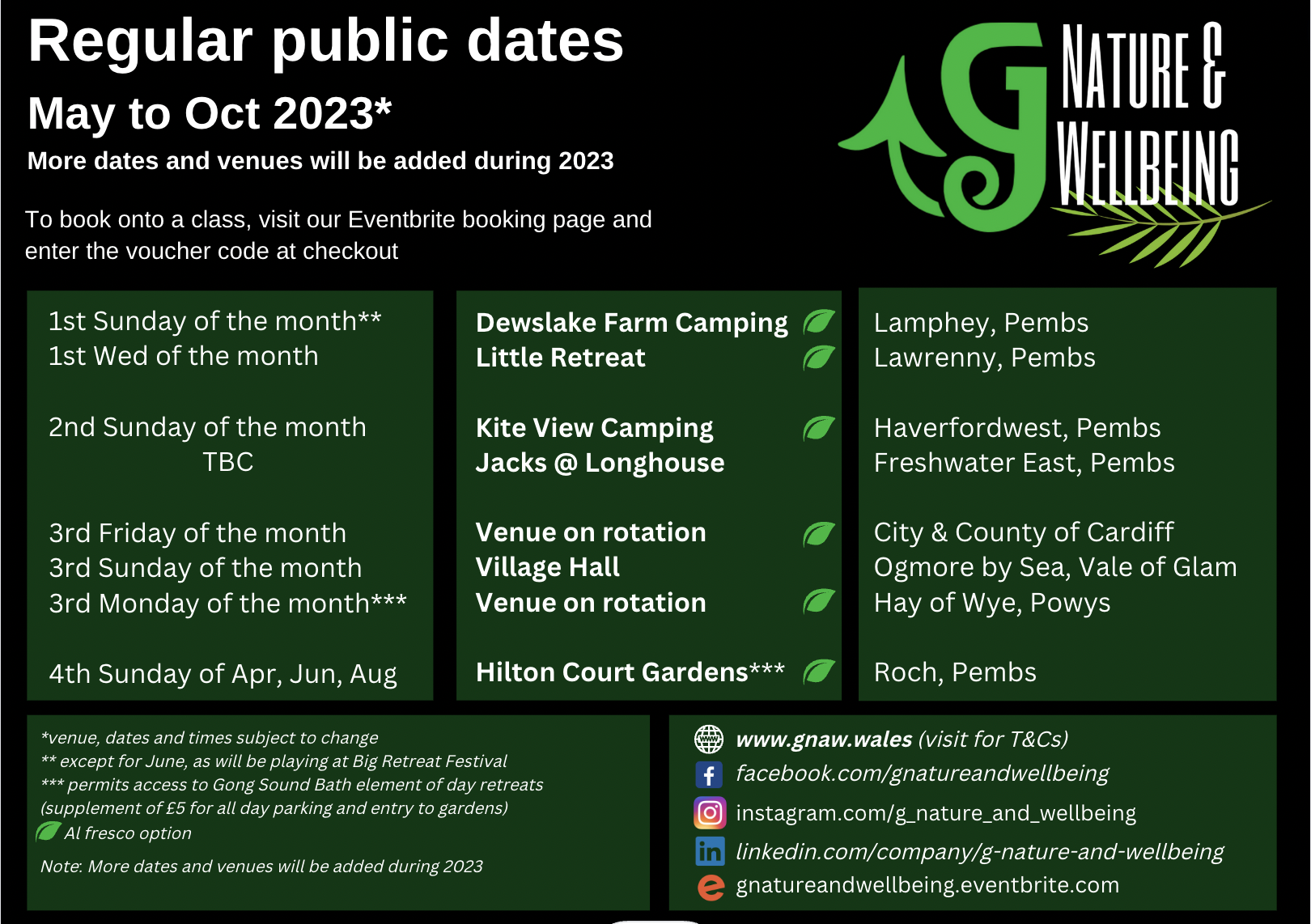 Gong Sound Bath Testimonial Examples